Discover the latest Bingo Blitz promo codes to keep your stash of fresh credits and valuable prizes constantly replenished. Bingo Blitz has always been known for its generosity in providing daily gifts to its devoted fans, and now they've introduced an exciting new method to obtain freebies within the game.
It's important to note that this is separate from the Bingo Blitz links that grant you daily rewards like bingo blitz free credits. This new initiative offers players an entirely fresh way to earn bingo blitz free rewards. Expect new codes to be released on a daily basis, so stay tuned to this space for future updates. If you're looking for more complimentary items, we also have guides on acquiring additional Coin Master free spins and Dice Dreams Free Rolls links.
if you are looking for daily credits link check here bingo blitz free credits link daily update 
Latest bingo blitz promo code
Please keep in mind that you'll need to redeem these codes within the app and complete the registration and tutorial process.
FISHY – Redeem for 30 Credits
RESCUE – Redeem for 30 Credits
SPOON – Redeem for 30 Credits
ICE – Redeem for 30 Credits
FLAG – Redeem for 20 Credits
FBGIFT4U – Redeem for 20 Credits
BingoBlitz12345 – Free rewards
Previous Bingo blitz promo codes
Here are some previously released Bingo Blitz codes. Remember to redeem them promptly to avoid missing out, as older codes may be removed without notice.
No expired codes at this time.
How to redeem bingo blitz promo code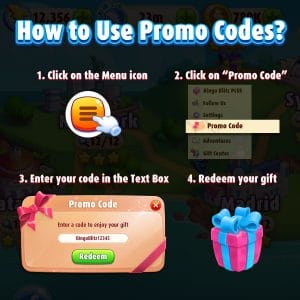 Redeeming  Bingo Blitz promo code is a quick process that takes just a few minutes. Follow the steps below:
Click on the menu icon located at the top of your screen.
Select the Promo Code tab and enter the code into the provided text box.
Click on Redeem, and the rewards will automatically be added to your account.
Keep in mind that codes are usually case-sensitive, so be careful while entering them. For more complimentary codes, check out our Cookie Run Kingdom codes to unlock additional freebies and in-game rewards.
If you're experiencing difficulties with your Bingo Blitz promo code, it's likely because they have expired. These codes typically have a short lifespan, so it's crucial to redeem them as soon as they are released to ensure their activation.
Currently, there are no expired codes for Bingo Blitz, so be sure to focus on redeeming the active ones. However, if you encounter any issues while redeeming a code in the game, it's likely because the code has already expired. Codes in Bingo Blitz have a limited duration, so it's important to act swiftly.
Remember, Bingo Blitz is continually updating its offerings, so stay on the lookout for fresh codes and promotions. By regularly checking for new codes, you can maximize your chances of earning free rewards.
Conclusion
In addition to Bingo Blitz, we understand that you may be interested in other games as well. If you're seeking more opportunities for complimentary items, we have guides available for crazy fox, which provide information on how to acquire extra free spins. You can also explore wsop free chips and find links to redeem in-game rewards.
Don't miss out on the exciting world of freebies and rewards—take advantage of the latest Bingo Blitz promo code, stay up to date with new releases, and enjoy a thrilling gaming experience!